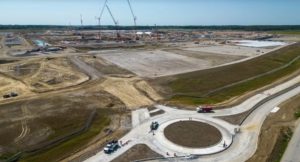 By Lauren Fedor
Financial Times
In Licking County, Ohio, massive red cranes dot the landscape and orange traffic signs warn motorists that trucks are entering the highway.
It is here, about 25km north-east of the state capital, Columbus, that Intel, the semiconductor giant, is building two new chip factories. The $20bn investment has been touted by local government officials as the single biggest economic development project in the history of Ohio.
The mega-site, spanning some 1,000 acres of predominantly former farmland, could accommodate eight chip factories, or fabs, with a total investment of as much as $100bn over the next decade. That would make it one of the largest semiconductor manufacturing facilities in the world.
But, for now, the initial phase of the construction project, which is slated to be completed at the end of 2025, has become emblematic of the economic development that has supercharged growth in this corner of the country. Once considered part of America's rustbelt, it is now known among enthusiastic investors as "Silicon Heartland".
It is also a hallmark of the White House's industrial strategy to incentivise high-tech manufacturing in the US, and a clear example of both the opportunities and challenges posed by such large-scale investments. Read More